Cost-effective and safe to operate
SALMATEC pelleting presses from the Maxima series have a modular design and can be adapted perfectly to the most diverse requirements.
The different operating conditions that a pelleting press is subjected to during production of pellets make high demands on construction and production.
That's why SALMATEC pelleting presses are made exclusively of high-quality materials and of course comply with the latest safety standards and guidelines.
The capacity per hour may amount to up to 50t depending on the type of machine and area of application.
Maxima-Duplex
Double pelleting in the smallest of spaces.
Maxima-Duplex is composed of two Maxima pelleting presses and ensures the highest pellet quality while simultaneously enhancing performance and ensuring greater flexibility.
And the special thing about it: Both Maxima pelleting presses also work individually or can be adapted to one another. The method of operation can be adjusted simply by using the pneumatically adjustable flap control device.
Comprehensive equipment
All Maxima pelleting presses have a vertically operating ring die in which two or three rollers depending on the product being processed ensure the highest pressure. The Maxima pelleting presses have a low-noise and one-step operated v-belt drive which provides energy-efficient and equal power transmission.
The heart of our pelleting press, the generously sized spherical roller bearing of the rotor, provides the machine with sufficient reserves even under relatively high stress.
The access door can be swung open across the entire pressing room and offers the best possible access to the pressing tools.
All Maxima pelleting presses have comprehensive standard and safety equipment. This includes the overload flap, permanent magnets, shear pins and overload clutches, temperature control, safety switches and much more.
MAXIMA pelleting presses
Model

Drive power
in KW

Die diameter
in mm

Working width
in mm

Maxima 360 mini
1 x 15 – 30
360
40
Maxima 360 eco
Maxima 450 eco
1 x 22 – 55
1 x 22 – 75
360
450
50, 75
75, 100, 115
Maxima 450 mk
Maxima 500 mk
2 x 37 – 2 x 75
2 x 37 – 2 x 75
450
500
100, 115
100, 135
Maxima 450 k
Maxima 500 k
Maxima 500
2 x 37 – 2 x 75
2 x 37 – 2 x 75
2 x 37 – 2 x 75
450
500
580
100, 115
100, 135
100, 150
Maxima 620 k
Maxima 700 k
2 x 75 – 2 x 110
2 x 75 – 2 x 132
620
700
100, 150
100, 130, 175, 225
Maxima 840 k
2 x 90 – 2 x 200
840
125, 200, 240, 270
Maxima 900 k
2 x 110 – 2 x 250
900
300
Maxima 1000 k
2 x 110 – 2 x 250
1000
300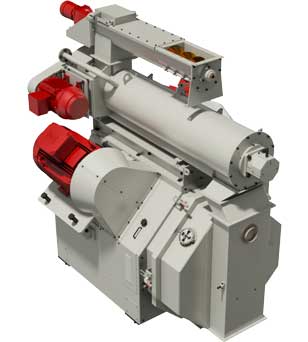 Areas of application
Feedstuff
Wood chips and dust
Renewable raw materials
Pelleting films/waste
Textile materials/carpet remnants
Waste in the steel industry
Paper and rejected materials
Filter dust
Sludge
Natural and artificial fertiliser
Feedstuff
and much more
Options (selection)
Optionally double or triple roller system
Automatic roller gap adjustment
Noise protection insulation
Electric door heating
Heat protection insulation
Roller temperature control
Roller cooling
Multi knife
Automatic central lubrication unit forced feeder
Die and roller hoist frame hydraulically actuated
Triple axle vibration measurement system
Special designs for processing extremely lightweight bulk material
Maintenance drive
Pneumatically adjustable pellet knife
Paintwork in your favourite colour