System construction: Planning and implementation
SALMATEC is a manufacturer of pelleting presses and peripheral equipment that is part of a complete production line.
However, SALMATEC also assists in the planning, construction and implemention of entire production lines. In addition to conveying and metering devices, this also includes refrigeration systems, screening machines, product containers and much more. It goes without saying that you will need a top-class control system for the best possible production with our machines and systems. Please feel free to ask any questions, we are happy to help.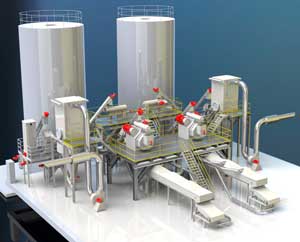 Everything from a single source
SALMATEC would be happy to plan and support you in implementing your ideal production unit.