Guarantee homogeneous mixtures
SALMATEC conditioners from the SALMACON series guarantee the
omogeneous mixing of basic components and the controlled addition of additives such as steam, molasses, water and many others.
The conditioners made from stainless steel from the SALMACON series ensure a continuous flow of materials with their product-related design. It goes without saying that these conditioners offer the best possible mixing result with the lowest possible delays.
Like all SALMATEC products, the conditioners from the SALMACON series conform to the latest safety regulations and guidelines.
Stable and flexible
The stable steel housing is made entirely out of stainless steel. The solid round shaft material and the mixing paddles are also made of stainless steel. All product contact materials are made from the highest quality materials.
The amount of retention time can be set using the adjustable angle of the mixing paddle. The speed of the drive can also be changed and individual requirements can be adapted.
The inspection port extends across the entire width of the mixing chamber.
On request, the conditioners can be equipped with wear-resistant or non-stick coated linings.
Our broad product range offers the right mixer for all requirements.
SALMACON conditioners
Model
Content
in litres
Internal diameter
in mm
Inside length
in mm

Salmacon 220

38

220

1.010

Salmacon 270

67

270

1.170

Salmacon 500

120

350

1.230

Salmacon 1000-1500

190

400

1.500

Salmacon 1000-1800

226

400

1.800

Salmacon 1000-2000

250

400

2.000

Salmacon 1500-1800

285

450

1.800

Salmacon 1500-2100

330

450

2.100

Salmacon 1500-2400

380

450

2.400

Salmacon 1500-3000

475

450

3.000

Salmacon 1900-2400

470

500

2.400

Salmacon 1900-3000

580

500

3.000

Salmacon 1900-3400

660

500

3.400

Salmacon 1960-2400

680

600

2.400

Salmacon 1960-3000

840

600

3.000

Salmacon 1960-3400

960

600

3.400

Salmacon 1970-3500

1340

700

3.500

Salmacon 1500 DK

570

450

3.600

Salmacon 1900 DK

840

500

4.800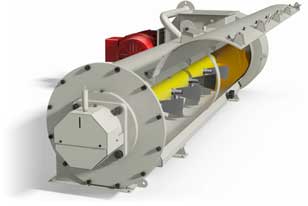 Areas of application
Wood chips and dust
Renewable raw materials
Pelleting films/waste
Textile materials/carpet remnants
Waste in the steel industry
Paper and rejected materials
Filter dust
Sludge
Natural and artificial fertiliser
Feedstuff
and much more.
Options (selection)
Electric trough heating
Heat protection insulation for the trough
Multiple steam nozzles
Positioning the feeding points where required
Wear-resistant lining
Non-stick coated lining
Special designs for processing extremely lightweight bulk material
Product-adapted shaft speed
Paintwork in your favourite colour
Special features
All modular conditioners from the SALMACON series are also suitable as molassing machines for high amounts of liquid.
Especially long retention times and therefore a very extensive conditioning process for the material are the reason for the "double conditioners" design.