The Swedish municipality owned utility, Falu Energi & Vatten AB has via its subsidiary Falun Kraft AB almost completed building a pelleting plant located at one of its existing combined heat and power (CHP) units. The pellet pro­ duction is to be integrated with the CHP plant which produces heat, electricity and cooling in one system. During spring, summer and autumn, the heat demand is not so big and there was the scope for new projects that could use the available heat. The innovative CHPC&P project (Combined Heat Power Cooling and Pellets) has generated widespread interest.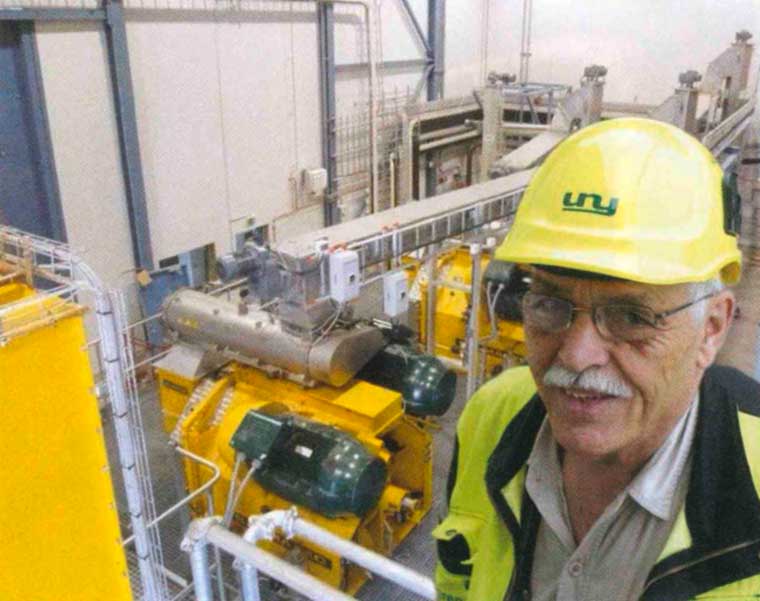 Ulf Nygren from UNY-Konsult AB in front of the installed Salmatec presses. Photo: Anders Haaker, (montage).
Pellets add on to CHP plant boosts power
Bio-combi in Sweden
Costing around 14 million Euro, the capacity of the pellet plant is expected to be 45 000 tonnes/year. Most of that will be sold mainly in bulk to larger consumers. A large share of the pellet will also be used in Falu Energi & Vatten's own production facilities in other places in the city. "By using the excess

heat to dry the sawdust, we can also produce 10 GWh more environmen tally friendly electricity, says Bengt Ostling, busi­ ness area manager of Fa­ lun Energy & Water.
Local supplies of raw materials
Weda Skog will supply the sawdust for the pel­ let mill. Weda Skog is a roundwood purchasing company jointly owned by Bergkvist-Insjon and Moelven Dalatra two in­ dependent and privately owned wood processing industries. Together they produce 500 000 m3 of sawn tim­ ber and large volumes of sawdust.

Erik Andersson, CEO of Weda Skog, says he is pleased to link up own procurement of timber and pulpwood with local sup­ pliers of biomass to a large, modern power plants."In addition to supplying sawdust for pel­ lets, Wed a Skog will also be responsible for most of the fuel supply to the CHP plant," said Erik Andersson. The fuel consists main­ ly of wood chips and wood for chipping to the cogeneration plant.
Innovative pellet plant
Ulf Nygren from the primary contractor and supplier of the technol­ ogy, UNY-Konsult AB, explains the key features of the plant.
Combination
The benefits of building an integrated pellet plant at a CHP plant are plenty. The most obvious is the possibility of using excess heat from the steam turbine to dry sawdust from March to October when the demand for district heating is low.

The produced pellets can be partly sold or used in their own small heating plants, or as fuel in our own power plant wintertime.
Wide raw material base
The pellet factory tn Falun is designed to be able to use slash (logging residue) and hardwood as raw material and manu­ facture industrial pellets. "We can use 100 per­ cent logging residue as feedstock to produce pellets, but then you must add a starch binder, originating from, for ex­ ample, wheat or maize,"
explains Ulf Nygren. The broad feedstock base provides greater security in the event of unforeseen disruptions in raw material supplies or increased costs in raw material prices. The plant is also capable of producing con­ sumer grade pellets, by using only sawdust.
Moisture content control
The pellet mill can also accept roundwood which then is chipped in a Bruks chipper at the mill. After grinding, the material is fed into a belt dryer. The dry material passes a fine mill, a hammer mill. The moisture content is checked and water added if needed. An even mois­ tu re content keeps the presses stable allowing high production rates. The produced pellets are preliminary stored in a 150 m3 silo and then moved to a seasonal storage. The belt dryer has been developed together with the supplier Swiss Combi. It is built in two floors, instead of mak­ ing a long draught. The advantage is that the material passes through the first floor and then loosened up when it falls onto the second floor.
Clean plant
One absolute require­ ment from Falu Energi is that the plant must be a so called "clean plant". This means that no dust, chips or leakage from the machines is allowed."That is a main reason why we use a "walking floor in the temporary storage after the band dry­ er. There's no place that is open where the chips may come in contact with air", said Ulf Nygren. To increase fire safety the plant is sectioned into three compartments. "Another specialty with this pellet mill is that we use vertical screw feeders from PST, instead of us­ ing tilted inclined screws. It provides a simple lay­ out and it saves space," explains Ulf Nygren.
Model for others
The 30 MW turbine in Falun CHP creates a lot of condensate sufficient to dry the raw material for about 8 tons of fin­ ished pellets per hour, a very good investment."There are a number of CHP plants with simi­ lar conditions that now are interested in adding pellets production," said Ulf Nygren.
Text: and photo: Anders Haaker, translated and edited by Lennart Ljungblom BI54/2265/LLj
Bioenergy International No 54, 6 - 2011 I www.bioenergyinternational.com